My 5-year-old daughter is still very much in the princess stage. She has been Cinderella for Halloween for the last two years, and she is currently involved in a Cinderella production at our local acting studio. We were thrilled when Macaroni Kid was invited to review the Bergen County Players' annual holiday family production Cinderella, now playing through December 17, 2017. 
Told from the perspective of the Fairy Godmother, Cinderella is the classic tale of the power of hope to see us through even during the darkest of times. The Fairy Godmother, played by Eileen Mager, and her two helpers, played by Madison Ryan and Joanna Sigurdsson, silently watch over Cinderella (Krista Hawkins) as she is treated like a maid in her home by her wicked stepmother and stepsisters Henrietta and Gertrude. When the King announces a Royal Ball to be held in honor of his son's 21st birthday, the Fairy Godmother gets to work making sure that Cinderella and the Prince fall in love with each other. 
This Prince Street Players Version of Cinderella will have you enchanted throughout the performance. The show's lighthearted tone is perfect for a young audience, even those like my daughter who are easily frightened by "bad" characters. The cruelty of Cinderella's stepmother, played by Leslie Cohn, and stepsisters Henrietta (played by Christine Rauchenbach) and Gertrude (Chloe Nevill) are comically portrayed through their goofy actions, combined with their colorful costumes and makeup. Mark Bogosian's performance as the blundering King Darling will keep you chuckling throughout the show. The music and choreography adds to the playful tone of the musical, with an unexpected, thoroughly amusing performance of "Invitation" by the stepmother, stepsisters, Cinderella, Prince Charming and the ensemble. 
As is the style of Bergen County Players' holiday production, there is plenty of fun audience participation throughout the show, which you will have to discover for yourself. If your child likes to interact with the performers, I would highly recommend purchasing tickets near the aisles for a special up-close treat. 
One of the other beloved traditions of Bergen County Players is to host a "Meet and Greet" with the cast immediately after the performance. This is a nice touch, adding a "teaching moment" to an entertainment-filled afternoon. As I read the autographs of each of the characters my daughter has collected, I also read a little bit about their background provided in the program so she understands that the characters are actually real people. We were pleasantly surprised to discover someone in the ensemble is a local teacher we know!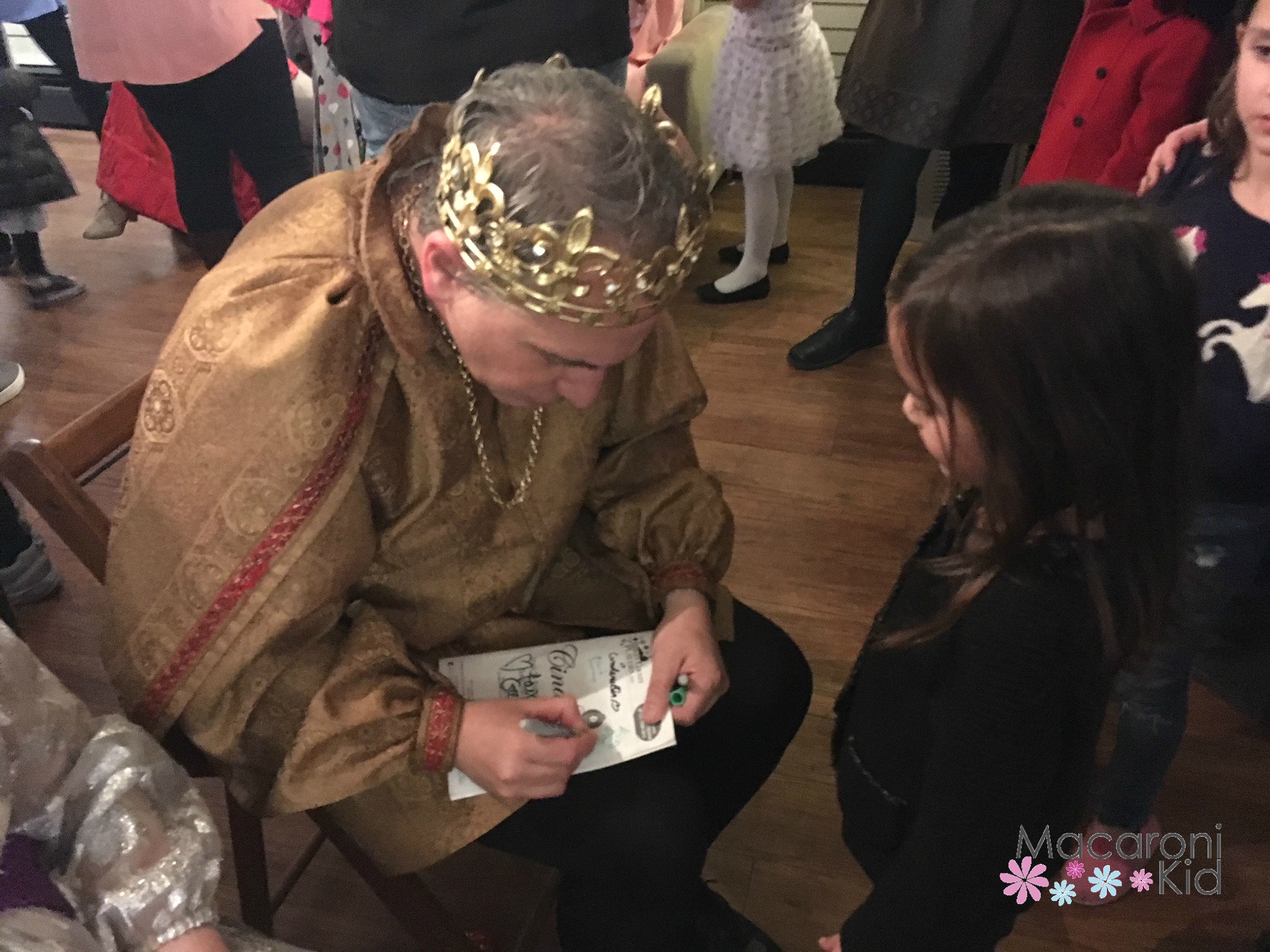 We had a ball watching Cinderella at Bergen County Players, and I would highly recommend seeing it this holiday season. Performances are on Fridays at 7:30PM, Saturdays and Sundays at 1PM & 3:30PM through December 17, 2017. All tickets are $14, and the group rate for 20 or more tickets is $13 each. Tickets may be purchased online in advance (highly recommended) at bcplayers.org or at the door if available. Bergen County Players is located at 298 Kinderkamack Road in Oradell. For more information, call 201-261-4200.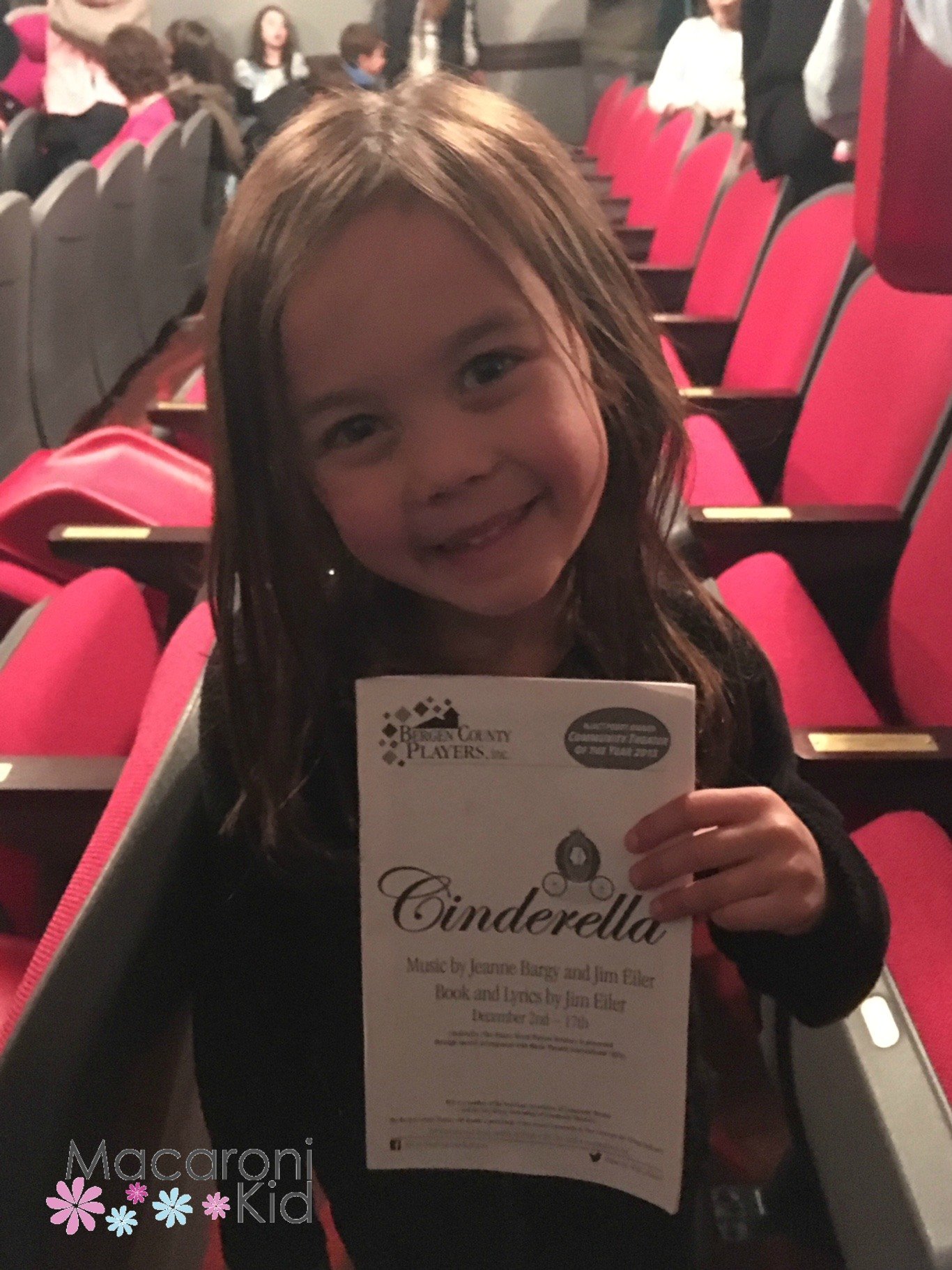 The show is directed by Bill Kaufman with music by Jeanne Bargy and Jim Eiler, and is approximately an hour and 30 minutes long with no intermission. There are no strollers allowed in the theater, and snacks and warm beverages can be purchased next door at Cool Beans Coffee Shop. If you go see the show, tag us on social media and tell us what you thought!
Related Articles
Without a Stitch: Emperor's New Clothes is Entertaining
No Lie: Bergen County Player's Pinocchio is a Hit
Want more family-friendly entertainment like this? Be sure you're receiving Macaroni Kid's free weekly emails for the latest in kid and family-friendly events and entertainment. SUBSCRIBE HERE.
Disclosure: Macaroni Kid Northeast Bergen was provided complementary tickets for the purpose of this review. All opinions are solely that of the author.