January 25 marks the beginning of this year's Chinese New Year, also known as Spring Festival in China. In other parts of the Asian world -- like Vietnam and Korea -- it's known as Lunar New Year. The celebration is technically 15 days long and, since it's based on the lunar calendar, falls in January or February each year.
Chinese New Year is a happy holiday that focuses on new beginnings and the hope of good fortune. Here are five fun and interesting facts about Spring Festival:
1. It's the Year of the Rat
Each year has an animal name, based on the Chinese Zodiac. There are 12 animals all together and they each reign for a year. This year marks the Year of the Rat, the first of the zodiac animals. The rat represents wisdom because it is quick-witted and can adapt to nearly any conditions.
2. Start your day with dumplings
Dumplings are believed to bring good luck and harmony. Some people will actually eat dumplings every meal of the day to celebrate, or for breakfast every morning. But it's OK to just have them only once!
3. Fireworks!
Fun fact: The Lunar New Year holds the honor of being the day the most firecrackers are set off worldwide. Many cities across the planet have technically made firecrackers illegal, but people still set them off.
4. Give money
Red makes an important appearance during the Lunar New Year. One of the ways it appears is in the form of red envelopes. Parents and grandparents will tuck money into a red envelope to give to the younger generations. Bosses might give red envelopes to employees. Friends and neighbors might exchange them. Businesses might stuff coupons into red envelopes for customers. Fake, symbolic money is also occasionally used.
5. Wear red and decorate with red
According to legend, a terrible monster named Nian would terrorize people on the Chinese New Year. It turns out the monster was scared of firecrackers, the color red, and bright light, so these are all now considered good luck for the new year to ward off bad luck. Red lanterns are especially popular because they combine red and light.

Join in the celebration by decorating your home with these easy-to-make paper lanterns:
Chinese New Year paper lanterns
Supplies:
A piece of red paper
Scissors
Glue or tape
A pipe cleaner or some string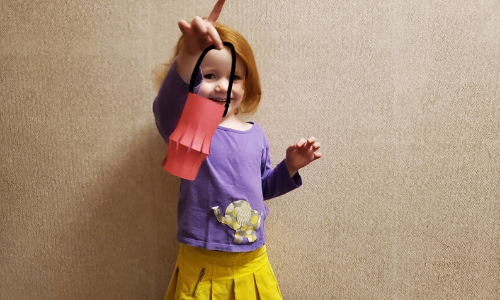 Directions:
Fold the red paper about 1/3 of the way horizontally.
Cut slits along the fold, being careful to not cut all the way to the edge of the paper.
Unfold the paper and glue the two short ends together.
Make a handle with pipe cleaner and attach to the top.
Make it glow by placing a flameless votive inside.
Emily Griffin Sheahan is the publisher of Macaroni Kid Flushing Queens, N.Y.
WANT MORE FAMILY FUN?
Be sure you are receiving our FREE emails for weekly event listings and also check out our events calendar!
Proudly serving Northeast Bergen County area families in Closter, Harrington Park, Northvale, Norwood, Old Tappan, Emerson, Hillsdale, Montvale, Park Ridge, River Vale, Westwood, and Woodcliff Lake since 2010.