The global pandemic has changed the way we celebrate this year with limited festivities and smaller gatherings. Our Filipina Macaroni Kid Moms collaborated on this article to continue sharing the Christmas spirit and our family traditions with you.
Did you know that the Philippines has the longest Yuletide season in the world?
September is the first month ending in "ber". The 100 days until Christmas countdown starts on September 16, but Filipinos start decking the halls and cities with glimmering lights and playing Christmas music earlier, on September 1st. It's a tradition that has been passed down for generations.
Filipino culture is very family-centric and has a strong Spanish influence. You will see many commonalities with the Spanish and Filipino language and culture. The core of our holiday celebrations is wrapped in what matters most: Family, faith, food, friends, and fun!
Family & Faith
Christmas is a time for families to reunite in faith. Over 90% of the Philippines identifies as Christian, and the majority of Filipinos are Roman Catholic. Families gather in faith starting with the Holy Mass in the evening, called Simbang Gabi. This is celebrated each dawn from December 16 to December 24. This is a nine-day novena mass to commemorate Mary's journey to Bethlehem. Misa de Gallo, meaning "Rooster's Mass", is the first mass after the nine days of prayer. It's said that those who attend each mass for nine days will have their wishes come true.
The Belén or nativity scene is prominent not only in the churches but also at home. My mom hand-painted this porcelain Belén over 40 years ago. It has traveled with us around the world and we display it every year at Christmas.

Filipinos were bursting with pride when Disney UK released this heart-warming holiday advert in November 2020, featuring Filipino culture and family traditions. One tradition that stands out is the grandmother, who we call Lola, making a star-shaped lantern, called a paról, with her granddaughter. The paról, which is from the Spanish word farol meaning lantern, is symbolic of the Star of Bethlehem, which guided the Three Kings to the nativity. Filipino's originally made the paróls to hang on lamp posts to guide families going to the midnight mass called Simbang Gabi.
Paróls are made of bamboo sticks and decorative paper and lit from the inside. Paróls were often made as school projects and sometimes held contests to showcase the most beautiful paról. Below are Macaroni Kid Publisher Emily Bowman's sons making paróls at home. If you want to make a paról with your kids, we invite you to view Disney UK's tutorial video here.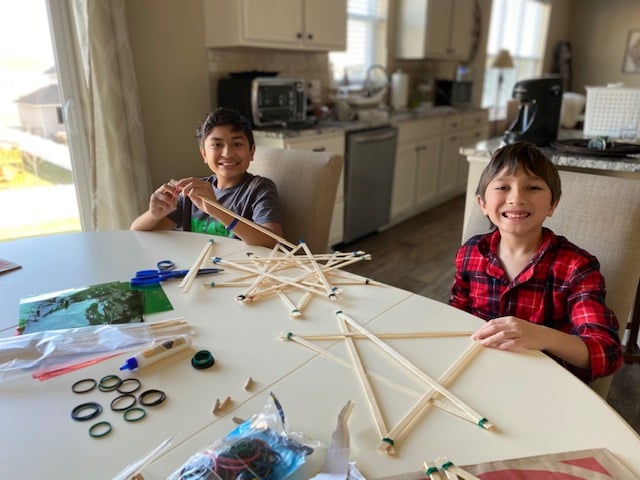 Family & Food
Filipino festivities would not be complete without a massive spread of home-cooked food, including lechón, a whole roasted pig, and other sweet and savory delicacies. After the mass on Christmas Eve, everyone gathers for a lavish family feast called Noche Buena, meaning "Good Night". On New Year's Eve, families gather once again for a feast called Media Noche, meaning "midnight".
| | |
| --- | --- |
| Lumpia (Filipino spring rolls) | Pancit Palbok (Rice noodles with Shrimp Sauce) |
| Bibinka (Baked Rice Cake) | Pandesal (Filipino Bread rolls) |
Family, Friends, and Fun
Filipinos also love music and singing! We go caroling with family and friends around the neighborhood. Aguinaldo, gift-giving (usually money) from Godparents and elder family members, is another tradition showing our generosity and the giving spirit of Christmas.
For New Year's Eve, families gather and display 12-13 round fruits. Twelve represents the number of months in the year and the circular shape represents coins or money. Everyone is encouraged to wear something round on their clothes (like polka dots), to symbolize prosperity in the new year. Some families throw coins and some folks place coins on each step of the stairs. At midnight, all drawers and doors are opened to welcome the new year's abundant blessings.
The Christmas season caps off January 6, Araw ng Tatlóng Harì, meaning Three Kings Day (Feast of the Epiphany). The Three Kings also leave gifts for the children.
We hope you enjoyed learning about our Filipino family traditions!
We wish you and your family a Merry Christmas and a Happy New Year!
Maligyang Pasko at Manigong Bagong Taon!
WANT MORE FAMILY FUN?
Be sure you are receiving our FREE emails for weekly event listings and also check out our events calendar!
Proudly serving Northeast Bergen County area families in Closter, Harrington Park, Northvale, Norwood, Old Tappan, Emerson, Hillsdale, Montvale, Park Ridge, River Vale, Westwood, and Woodcliff Lake since 2010.