September is the start of apple picking season! Do you have a favorite apple? Macaroni Kid Pascack Valley has some some family-friendly orchards within about an hour's drive from Bergen County where you can pick your own. Be sure to contact the farm directly for current picking conditions to avoid disappointment. Be sure to check out our apple recipe!
Northern New Jersey:
Demarest Farms, 244 Wierimus Road, Hillsdale. PYO Apples will be available beginning September 3, 2022. This local family farm is a favorite for families. General Admission is $7 per person (Age 2 and over), includes Parking, Entrance to Apple Orchard, Petting Zoo, and Playground! The price for a Bag to Hold the Apples that You Pick is $15! (Apple Bag holds approximately 10-12 lbs.) Children under 2 – FREE. Don't forget to visit the farmstand that offers apple cider donuts, fresh-pressed apple cider, and an very cute outdoor playground area for the kids. Parking is limited on the weekends.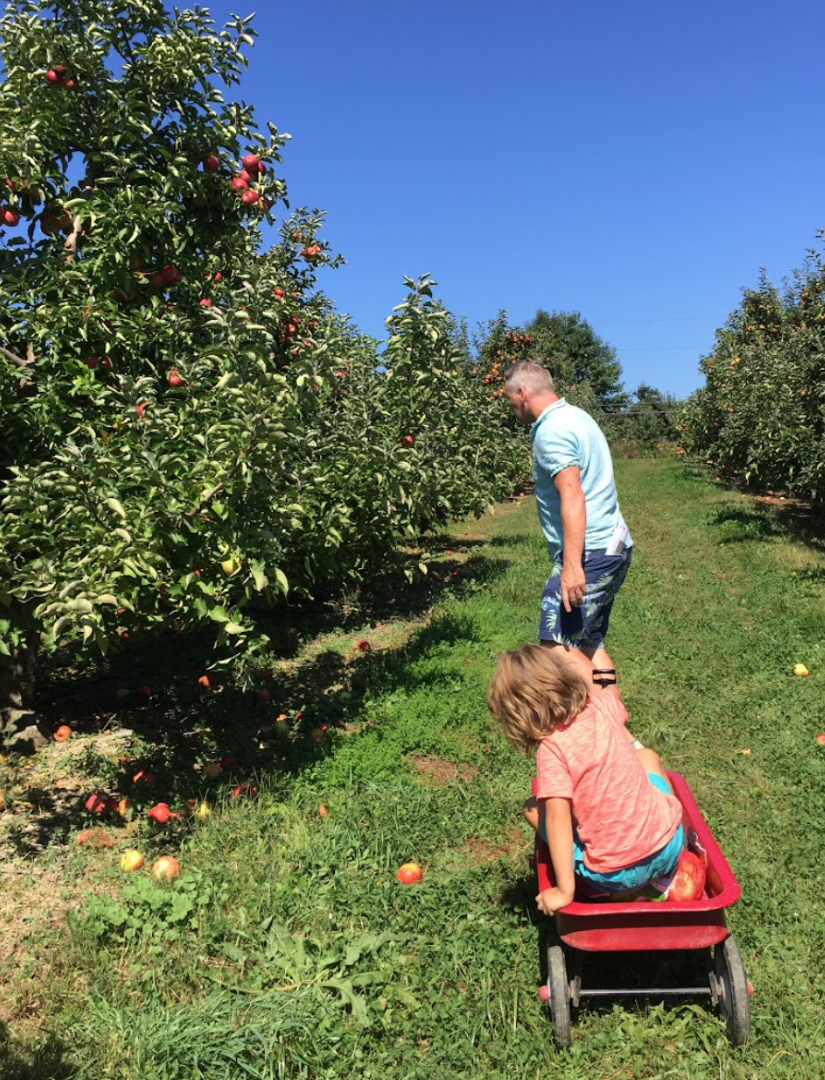 Alstede Farms, 1 Alstede Farms Lane, Chester. About an hour away from Bergen County, Alstede Farms is a beautiful, sprawling farm complete with kids' activities like pony rides, wagon train rides, corn, evergreen, and sunflower mazes, and a concessions stand and wine-tasting. Pick Your Own admission price varies by container and includes unlimited hayrides to the orchards and fields - in addition to apples, you can pick raspberries, peppers, eggplant, tomatoes, and blackberries. To purchase PYO tickets please visit HERE, which includes admission to the mazes. Purchase tickets to pony rides or wagon train rides HERE.
In New York:
Masker Orchards, 45 Ball Road, Warwick. Open daily from 9AM-5PM. One of our favorites because you can drive up to where you want to pick your apples. Admission is free, parking is free. You get a bag to fill apples and pay only $31.95 per bag when you exit. Enjoy a picnic, take in the beautiful views, and eat all the apples you wish while at the orchard. There are also a Family Fun area with a playground, live entertainment and petting zoo.
Pennings Orchard, 169 State Route 94S, Warwick. You can't go wrong with 20 varieties of apples on 100 acres of farmland. Open daily from 9AM-5PM, with no reservations required. Half bushel (22 pound) bag is $30. Cash only (there is an ATM on-site). Pennings Farm Market down the street has a farm-to-table style cafe, outdoor beer garden, ice cream stand and garden center. The beer garden has a good menu for kids.
Apple Dave's Orchard, 82 4 Corners Rd, Warwick. Starting Saturday, September 4th through the end of October, Apple Dave's Orchard is open Monday through Sunday from 9:00 am to 5:00 pm. Buy a bag for a buck (or two dollars for a larger one) and pay for what you pick. Cute farm with a distillery with food and a nice view overlooking the pond. It's off the beaten path, low-key, and dog friendly.
Weed Orchards and Winery, 43 Mt Zion Rd, Marlboro. Fruit picking all week from 10AM to 5PM, on weekends 9AM to 5PM. Besides apple picking, you can also pick grapes, tomatoes, eggplant, zucchini and peppers. There is also a cafe and bakery, and weekend events. Winery, featuring craft beers, wine, sangria and wine slushies, is open on weekends only. No reservations required. Hayrides, playground, and corn maze are amazing!